Sustainability
Together with all stakeholders
ISO14001 & Zero Emissions
On the basis of the ISO14001 certification we acquired in 2006, we work to preserve and improve local communities and the environment by building a mechanism for continuous improvement of our environmental burden management system.

ISO14001 Initiatives
Environmental Policy
Philosophy
Castec handles requirements for a wide range of different products, number around 8000 varieties per month. In order to provide a wide variety of completely made-to-order products in small lots, we have established a flexible production structure and rigorous quality control. We implement a 100% complete and comprehensive inspection on the basis of ISO9001, and include measurement data upon delivery.
Additionally, we are able to provide traceability that spans the previous three years. We guarantee reliable quality to ensure customers they can use their products with peace of mind from the day they receive them.
Action Agenda
1. Reduce environmental burden in all our production activities.
2. Obey the law. Also ensure we comply with everything else required of us to eliminate the risk of pollution of the natural environment by harmful chemical substances, waste, and other such materials.
3. Ensure employees and persons related to Castec are informed, and each individual strives for environmental improvement in their work and from their position as a citizen.
Musical Initiatives
As part of our contribution to society, in 2005 and 2017 we invited a string quartet from Finland to give concerts that were free to attend, as well as inviting a violin and accordion duo to do the same in 2008.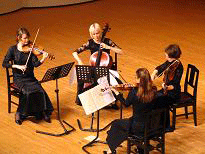 Forest-building Club
Since 2010, Castec's Forest-building Club has participated in a 100-year project with central, prefectural, and municipal government in Japan to create forests on the reinforced embankments of the Tone River. We have planted 750 trees of more than 18 varieties, including jolcham oak and bamboo-leaf oak. Currently, we are still engaged in forest maintenance activities ranging from grass mowing to thinning of 1,000 trees over 8,000 m2 of land.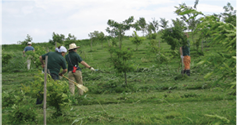 2010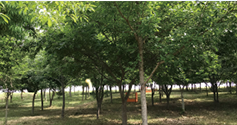 2018